New Year, New You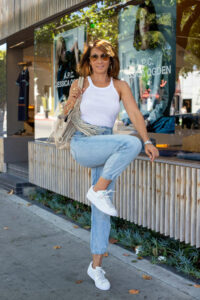 Happy New Year!
The past year has been full of rewarding work. My clients are amazing people. They have started companies, run companies, run not -for -profits benefiting people all over the US and the world, traveled the world, gotten married, had children, had grandchildren, written hit movies, produced many tv shows and commercials, saved animals, and just lived extraordinary lives. I am happy to have been a part of making them look and feel good while they do it all. I have tried to make their lives a little easier along the way.
2023 Here We Come
As we begin this amazing year ahead I am checking in to see if you are ready.
Do you have a clean pallet to begin with. Is your closet edited to what really matters and what you really use? Let's get that done. Then we can partner with one of the amazing closet organizing companies I work with and make it beautiful. You should look at your closet and feel enlivened, never stressed.
Do you have the right capsule wardrobe for your life? It contains the 8-10 pieces I believe every man and woman should have. These are the basics of your wardrobe. You will use these pieces the most. We should invest in the best ones you can afford. They can be a little different for each person, but the idea remains the same. You will not be sorry.
Do you have the style you need for the life you will live in 2023? Once we have built out your core basics, we need to add in those special items. The things that make you feel beautiful every time you put them on. For you guys, these are the piece that make you walk the tallest and feel you're most confident. This is about creating a style that is unique to you. Let's do this!
Have you thought about your beauty routine, your self care? This can include many things. Is it time for a good eyebrow blueprint ? A new colorist? Does your haircut need updating? Do you like your dermatologist? Do you have one? The questions are many. Do not be afraid. Ask me. I know people. Let's get you ready to face the year ahead flaming from head to toe. Speaking of toes, do you know the latest in mani / pedi care? And yes guys, I am talking to you too. Self care is about the inside AND the outside. They are connected.
I adore making my clients look and therefore feel their best. The beginning of the new year is a great place to start.
Wishing you all happiness, success, fulfillment, and a beautiful 2023.