Get in the Swim
Everyone I know hates shopping for swimwear. Period, end of story.
And, you know what? It's not really your fault. The psychological timing is off. You always need to shop for a swimsuit on the heels of having been socked in all winter in snow boots and parkas. And, just when you are looking forward to the warmth of the sun, it hits you. Dread. Add to that the fact that stores where you might find one, especially department stores, have literally the worst lighting for trying on a suit. So, it's intimidating. Lighting like that can make even Gisele Bündchen look bad.
So, what can we do to make this better? First of all, I can do it for you! (Sigh of relief.) I can bring you a spectrum of swimwear that will look amazing on you, in all the right color and size combinations, and you can try them on at home where we can pick out the perfect ones for you. Or, if you prefer, I am happy to take you with me to the best places, where you will have the best selection and lighting!
While the lighting experts need some work, at least swimwear companies have gotten smart about giving us a variety of coverage options for our two-pieces: from full coverage to skimpy. With many brands, you can mix and match sizes for tops and bottoms.
Some of the most fashionable ones only come as a set, but that doesn't mean you can't mix and match them yourself with some of your other pieces. This way, you get more bang for your buck!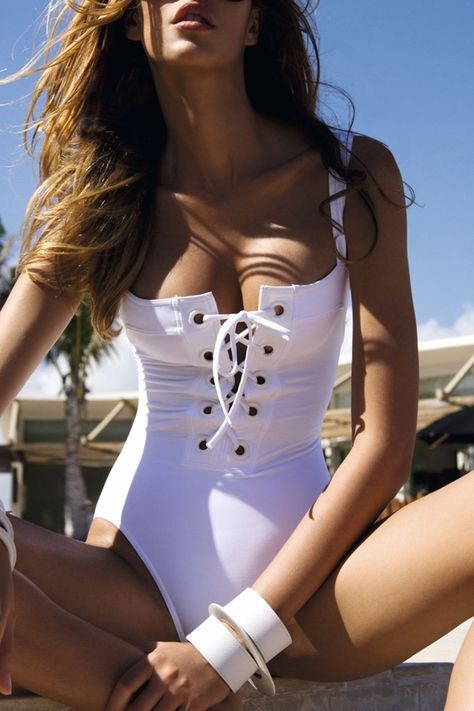 If you're too shy for a two-piece, let me tell you this. One pieces look good on everyone, in every shape and size — as long as you find the right one. When we talk one piece, we are not talking about the suit you wear to do laps. The one pieces that are coming out now are hot, hot, hot and are bringing way more style than they have in years. Even if you are mainly a bikini girl, you are going to want at least one fire one piece this season!
Not only are one pieces stylish, but they can also help you forget that very personal, persnickety body issue you have that you always want to downplay. Trust me, there are suits out there for every body type and every fierce self critic.
Want me to show up at your door with a bunch of swimwear options picked especially for you? Nothing would make me happier than to help to take the sting out of swimsuit shopping. I will find you one — or four — and you will feel fabulous and sexy and smart and pulled together and ready to jump in.
x K