Boots on the Ground
It's coming. The crisp, cool air of fall and the rainbow of foliage that goes with it. Cue the sweaters, the jeans and, yes, the all important boots! Nothing puts more of a strut in a woman's walk than donning a new pair of boots.
With boots, there are so many choices, that it's hard to go wrong. We've talked about your sneaker wardrobe and your jeans wardrobe, so now it's time to talk about your boots wardrobe. And, you're lucky, because there's a boot for every mood!
Close your eyes and envision the line up:
— ankle boots (flat or with a heel)
— biker boots (so many options)
— hiking boots (not for hiking)
— a chelsea boot (definitely!)
— over-the-knee boots (ooh la la!)
— the shoe boot (let me show you!)
— the slouch boot (so sexy and relaxed)
— and the cowboy boot (new and updated)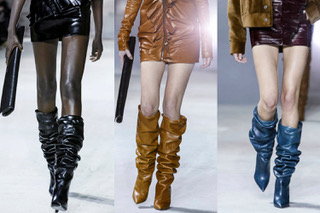 Besides the boot format, you can choose from an array of sparkles or studs, colored suede or python on pretty much any of them. Python is oh-so-major this season and will spark up your jeans and pretty much everything else!
If you are thinking budget — financial or closet real estate — you should consider having 4 to 5 pairs of boots in your wardrobe. It's good to be strategic and I can help! Let's take a look at the boots you have. There must be some to keep and some to update. Designers are always fashioning a new take on old favorites. Perhaps you invest in some higher end boots to get you through a few years or more… something really special? Then you can have a little bit of fun going trendy with something less expensive. That's what I love — a little timeless and a little trendy!
So, let's make some choices together and get ready for that first leaf to fall. You want to be able to have your (NEW) boots on the ground by then!
x K