All hail the white tee!
Tomorrow is National White T-shirt Day folks and the whoop-la could not be bestowed on a more worthy fashion icon! Please join me in celebrating and, if you are short on this mighty item, let me help you put together the best white t-shirt wardrobe. OK?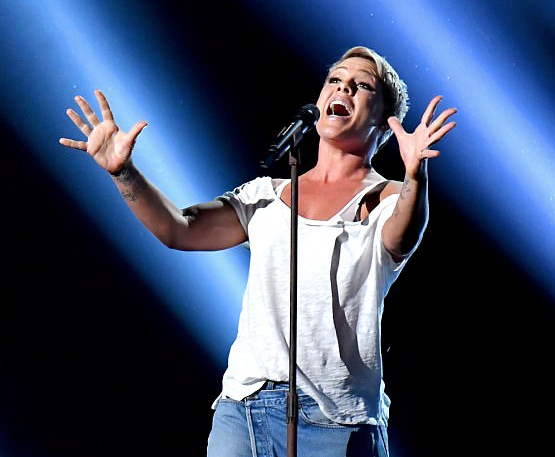 First things first. Did you watch the Grammys? If you did, and even if you didn't, you definitely saw Pink rock the stage in her perfect white tee and some to-die-for jeans. She might as well be this year's poster child for the ever-versatile white t-shirt.
She's just one in a long line of white t-shirt devotees. Cue Debra Harry, Robert Redford, and Sting to name a few. The white tee literally has a role in every decade past, present and future (since the 50s anyway).
A white tee is a basic. Like jeans. You can't have just one. As a matter of fact, you need at LEAST three, but I recommend more. Trust me, you can dress them up under a hot jacket with some sexy heels or down with jeans and sandals. Men too, pop the right crisp white tee under a blazer and you will turn some heads.
Please understand that when I say "white tee," I do NOT mean the undershirt variety that comes in a three-pack. You can get a good one for $15.99, but you can also splurge on one in the hundreds range. Both have a place in your wardrobe.
The other thing that I mean when I say "white tee" is white. Not off white, not beige, not used-to-be-white. It must be a bright, shiny, eye-catching white. Plus, a white t-shirt wardrobe has to be maintained. New pieces need to be added every season and, yes, some old favorites have to be retired.
Here is where I can help. You will need a tight one, an oversized one and a few more. Just say the word and I will drop off a full collection at your door. You pick what you like and I will show you how it works with your wardrobe in a way that will make you raise a glass to the white tee!
Happy National White T-shirt Day!!
x K