A Resort State of Mind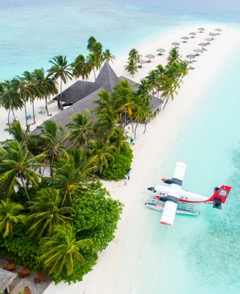 Get ready, Ladies! This is the first in a three-part series to get you all ready for vacation time. I know you're busy overcoming post election stress — no matter how your candidates did — and digging in at work and thinking about the holidays… BUT, that is why I am here — to make sure that someone is thinking about YOU!
First, let's talk about resort wear for ladies. I know some of you are not ready for this. Some of you still need to get a hot new coat for the winter (ahem, send me a note). And some of you are doing that ostrich thang… thinking that if you ignore the fact that you will go on vacation either over New Year's or deeper into the winter season, and that the suitcase will magically pack itself… Well, you need me.
Here are some things that are NOT OK, okay? Do not think you are going to get to the week before you leave and unpack that sorry ten-year-old tunic from the bottom of the storage bin and call it a day. No, no, no. Whether you are heading to Iceland, an ashram, to a yacht in the Caribbean or a 5-star resort in Cabo, you need a plan.
For those of you who have been working with me or following along here, you know I like to help you build your base. White tees. The right jeans. Perfect sneakers, or better, a collection of them. We do that with resort wear too. And now is the time.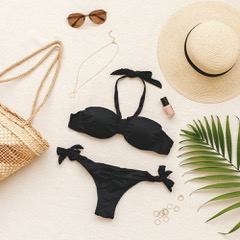 We start here. We check your swim suits. How's the elastic? Do you have enough variety? Biknis? One pieces? The perfect styles for your body are out there and I can bring them to you. Yes, to you. You will never have to get undressed in a dressing room ever again. It's the way to go.
We continue. When you are on vacation, it's time to let your hair down and to step out in something really gorgeous. It doesn't matter what you've been doing all day — hiking, surfing, reading a book — at night it's time to look fun and festive and sexy. You'll need a fun top. You'll need a new dress. You will need the right sandals. On trend, not yesteryear's news. And an oh-so-right sarong! The right one can do double, even triple duty, in your resort wardrobe… I will show you.
Here's the best news. Once you get your resort gear lined up, you will have a base to work from when it's time to work on your summer wardrobe. Woo hoo!
I am keeping an eye on the clock and resort time is now. So, let's do this together. You will be so happy you did!
Stay tuned for Resorting with Men and How to Pack for a Great Vacation! Coming soon.
x K