Swipe Right.
Ask anyone. The online dating scene is, well, challenging. But it's also interesting. For starters, it's a visual game. If a man or woman makes a good impression on you, you swipe right. And then you learn more. Maybe you learn that on your first face-to-face encounter.
I have friends who have found their life partners on-line. I have others with horror stories from the trenches. I am sure you have these friends too. If you are looking for a lover or a partner on line, isn't it worth figuring out what works to give you as many options as possible? Yes!

So, for you, I did some homework. And, Clé D'Or has just launched a new boutique service — based on this research — to help you get what you want.
Here are some important tips and ways that Clé D'Or can help:
You only get one chance to make a first impression. I can't stress this enough. Your entire online dating life starts with a good profile picture. You do not have to get professional head shots taken. All you have to do is do better than 95% of the candidates on-line… and from what I have seen, that should be pretty easy. I don't mean to be mean, but the profile pictures could ALL be better.
Once you present yourself well, you need to dress appropriately for your date. I can help. It's important to have at least three outfits ready for your first three dates. This will help you present your best self. No need to break the bank, just to be pulled together.
Ladies and Gents, here's my number one (and two) DON'T for profile pictures: No bathroom selfies. Period. It's not cute or appealing, no matter who posts it. We can do so much better with a simple iPhone picture of you, in the right light, in the right clothes. Not in the bathroom! Also, do not post a profile picture where you have cropped out your ex, just because you look cute. This is a no-no.
Gents, one more free tip. No pictures with fish. Unless you only want to date competitive fishermen or women… leave the fish out of the picture. Maybe show that off on your third date.
And Ladies. For you. Just like the fish, don't post a profile picture of you and a drink. Please. It doesn't mean you won't have a cocktail on your date, it just doesn't look as appealing as a nice outfit, well done HMU (hair and make up!) and a smile.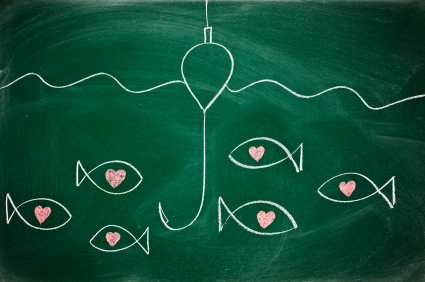 Rules for what to wear and what to do are as numerous as the fish in the sea, but if you want to catch one, Clé D'Or can help you get swiped more times than any fish, any drink or any bathroom mirror.
Let's get a date together!
x K